Automate your funnel
to target your best prospects
Highlight your hottest prospects – and assign scores and
tags when they take a desired action.
Create robust marketing automation workflows to match
each stage of your customers' journey. Just set some
conditions to move contacts across multiple workflows and
lists. That way, you get full control of the complete customer
experience – and can personalize the messages you send.
Do you also need to bridge the gap between your sales and
marketing teams? Then you'll want to identify MQLs
(Marketing Qualified Leads), SQLs (Sales Qualified Leads),
and SALs (Sales Accepted Leads).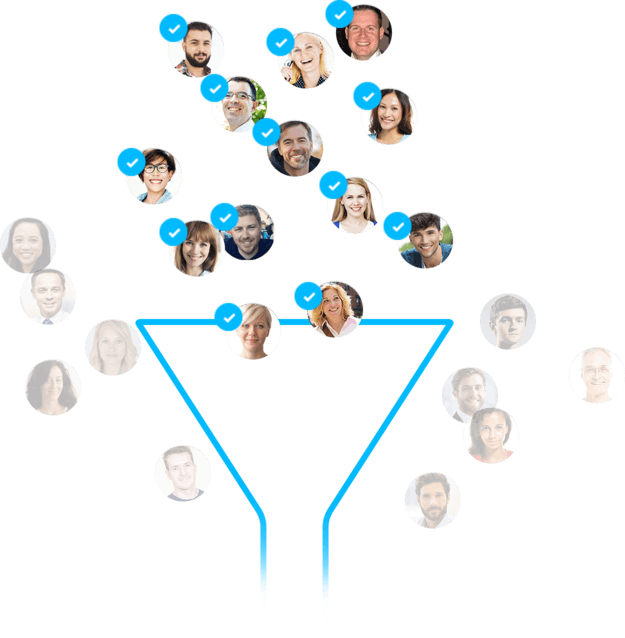 Keep a clean list for top
deliverability rates
Inactive, mistyped, or abandoned email addresses can affect your sender reputation – and ultimately compromise your campaigns.
But we know you need to focus on the bigger picture. So we'll automate all your subscriptions, bounces, complaints, and
unsubscribes.
You can also benefit from greater email deliverability – and a superior sender reputation with your audience and major email
providers. And with confirmed opt-in, you can build a better, more secure list. That way, you only market to people who like what you do. The result? Higher open rates, conversions, and sales. Plus, legal proof your contacts want to hear from you.
Our experts can help optimize your campaigns and get more conversions. Theyll check your domain setup, manage your sender
reputation, and generate deliverability reports based on your campaigns.
Keep your data fresh, in one
dashboard
You can easily connect your company's CRM, CMS, or
ecommerce platform with GetResponse. This keeps your
customer data fresh.
Plus, your account smoothly integrates with multiple sites,
platforms, and plugins. With our open API, you can oversee
your contacts lists, access statistics reports, or even run
entire marketing campaigns. And say goodbye to multiple
dashboards!
Handling bulky customer datasets with thousands of
records? Take a load off with FTP. You can import, update, or
replace lists with updated versions of your files. But if you
prefer, you can just let the API take care of it all automatically.