We combined powers
to empower you
Natively built using Common Data Service Architecture and hosted in Azure, GetResponse MAX integration allows both on-premise and cloud Microsoft Dynamics' users to take advantage of a wide variety of marketing tools available all within one marketing platform. With our integration, you can benefit from:
24/7 dedicated support for your GetResponse MAX account
Synchronized contact data between the two platforms
Marketing campaign deploy from the CRM
Officially Accredited GDPR and data compliance
Advanced marketing automation capability
Drag-and-drop visual editor functionality with no coding necessary Seamlessly synchronized
The synchronization between GetResponse MAX and Dynamics CRM transfers details from contacts and their marketing activities on the GetResponse platform to update contact details in the CRM.
A single and unified reporting view of email marketing history in Microsoft Dynamics
Schedule and manage marketing campaigns centrally from Microsoft Dynamics CRM based on prebuilt emails templates in GetResponse
Ability to trigger automated acquisition and lead nurture campaign based on user behavior and predefined CRM actions
Based on scoring and segmentation rules, identify and promote qualifying leads to the sales team
Send and track email campaigns from Microsoft Dynamics
One of the main advantages of our integration is the ability to create modern and mobile responsive emails in your GetResponse MAX marketing platform, but manage the sending and tracking in Microsoft Dynamics 365. This ensures that your teams get to use best of both worlds in email marketing and contact data segmentation.
Allow your teams to use one central system to manage the deploy and tracking of email marketing campaigns
Utilize GetResponse's intuitive drag-and-drop email creator to build pixel-perfect and mobile responsive emails without any HTML skills
Display statistical information, within the familiar Microsoft Dynamics interface, about various aspects of email performance and customer engagement
Launch and analyze A/B test campaigns in Microsoft Dynamics to better inform marketing decisions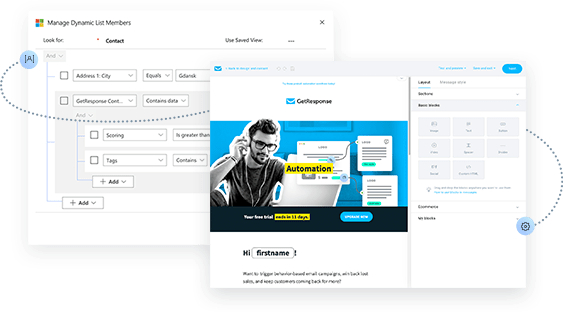 Brands that trust GetResponse